POSEIDON A.W.G.S
1 POSEIDON Brand Identity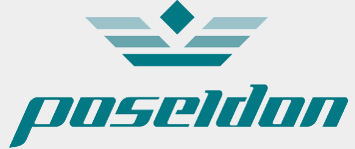 Means that it safely protects ships from strong sea breezes and waves sent by the god of the sea in Greek mythology who tames raging waves and sea horses.
Its design includes a kind of symbol for a ship and a pendulum in the middle in order to present a shape of stable device which does not roll in the waves.
2 Configuration and Specification of POSEIDON
| | A.W.G.S 15P | A.W.G.S 30P |
| --- | --- | --- |
| Image | | |
| Size | 990L*560W*655H | 1250L*680W*760H |
| Rated output | 3.5kW | 4.5kW |
| Efficiency of rated output | 90% | 90% |
| Rated rotation, RPM | 4000RPM | 4000RPM |
| Weight | 300Kg | 600Kg |
| Spool up time | 40Min | 40Min |
| Application | Under 20 ton | 25ton~35ton |
* Through duplicate installation of POSEIDON, it is also available for a ship whose specification is not originally suitable
3 Strengths Of POSEIDON A.W.G.S (Anti-Wave Gyro Stabilizer)
Features No.1

Risk reduction of ship overturn
The excellent effect of anti-rolling in anchor situation (Rolling reduction to approx. 60~70%)
(Rolling reduction may differ slightly depending on the Transverse Metacenter(GM)).
Features No.2

Excellent durability and quality
Though various shop test, official test, actual shipping test, the security of durability and quality
Features No.3

Economical price
We provide reasonable price to customers though the manufacturing cost reduction, and the establishment of mass production system.
Features No.4

Sustainable technical innovations
Though continuous technical innovation, we are developing competitive products and excellent quality.